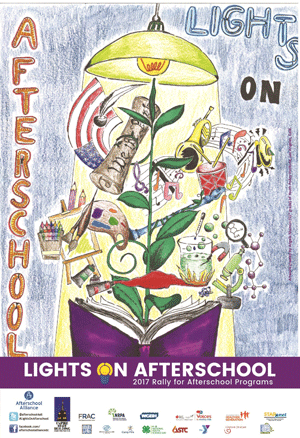 Click on the poster image to download this year's artwork for use in your Lights On materials!
This spring, afterschool artists from zip codes across the country showed off their creativity by submitting impressive designs for the 2017 Lights On Afterschool poster contest. After reviewing hundreds of entries, we're excited to unveil the winner: Angela Mamun, an 11th grade student at Youth Policy Institute (YPI).
After reviewing hundreds of applications and posters from across the country, Angela's design cinched the public's vote in May, with a final count of 466 Facebook likes and other reactions. The design will be printed on more than 50,000 posters and sent to more than 8,000 programs nationwide—and for the first time ever, the contest winner's program received a $500 cash prize.
Register your event now to receive 10 free posters!
Angela had been at Youth Policy Institute for six months when she entered the Lights On Afterschool poster contest. In addition to providing homework help, tutoring in a range of schoolwork and non-schoolwork subjects, and a safe place for students to go afterschool, YPI offers a STEM club, an arts club, and a club that focuses on volunteering and supporting local immigrant families. All of the clubs are student-led, providing opportunities for students to define their interests and take the lead on making change in their community.
"There are a lot of clubs that students are involved in," Angela explained. "Every single YPI club was started because a student wanted to start it—not because of the teachers. We also volunteer at different places, like hospitals and clinics, and have a wide range of internships for students who are interested in every field."
Angela is active in the program's immigrant family outreach club, Colores Unidos, and the arts program. "Basically, we help with issues about immigration. A lot of students at Camino Nuevo are second-generation immigrants, so we support them with legal issues. And I also like the arts program we have. An artist named Rocky Rojas is the one who gave me the flyer for the poster contest. Every Thursday and Friday he teaches us art. Sometimes we go on field trips to museums for exhibits like Kerry James Marshall's 'Mastry' at MOCA. We go on field trips a lot and we're about to start a mural, too."
She described her experience of the program's art club as an opportunity to learn in a different way than how she learns during the school day. "I wouldn't have these kinds of opportunities or experiences at school -- it's different from most other classes. For example, the instructor recently taught us to do ink prints with a linoleum surface. We used chisels to carve out bits and parts to create designs, and we learned about negative space and positive space that way."
The opportunity to explore new experiences and try different walks of life fits in well with Angela's plans to graduate high school, head to college, and then enter medical school.
How will you be celebrating Lights On Afterschool on October 26? Be sure to register your event and let us know, and we'll make sure Angela's poster design lands on your doorstep soon!