After reviewing hundreds of impressive submissions this spring, we've selected four finalists. Head over to Facebook to vote for your favorite, or read more on the Afterschool Snack!
---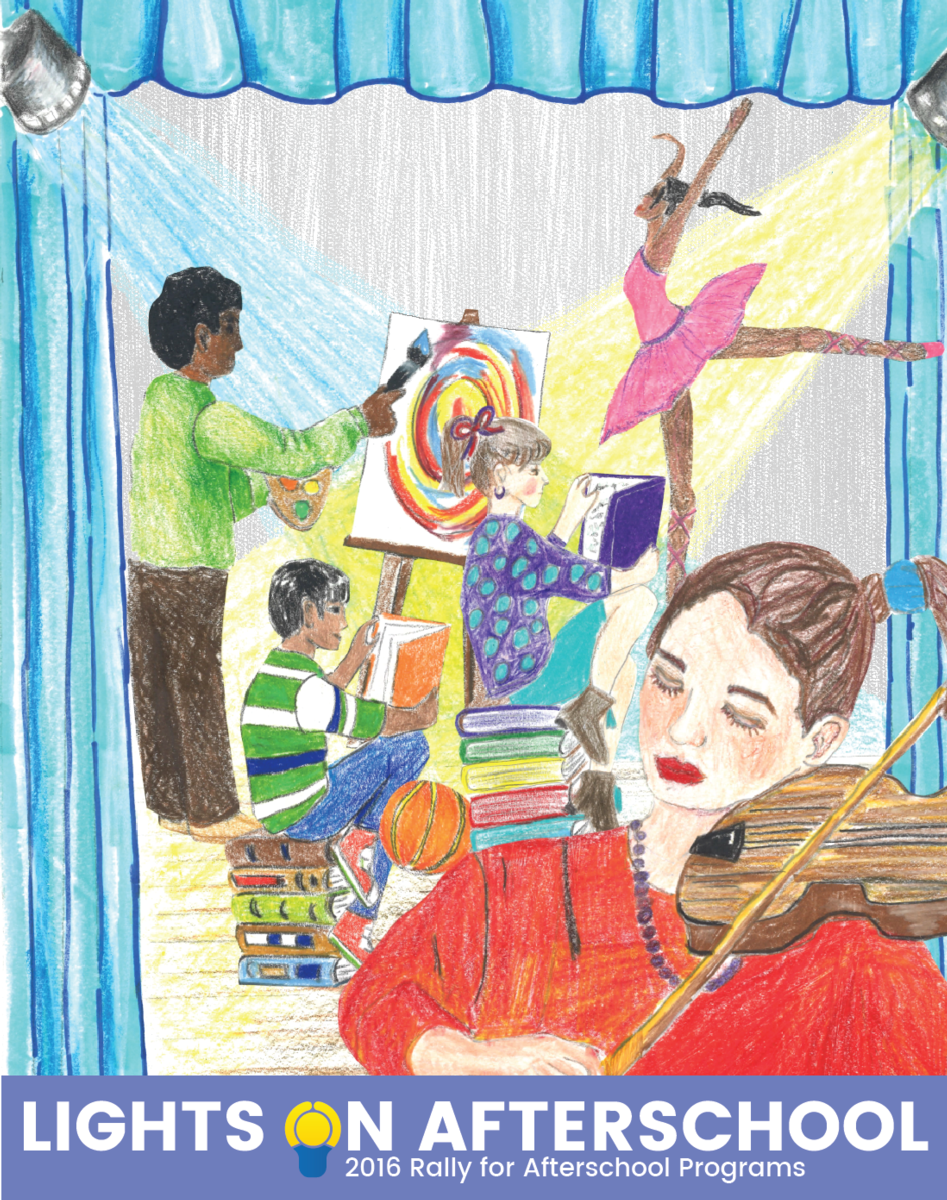 Last year we received thousands of youth artwork submissions from afterschool programs across the nation. Once again for 2017 we're encouraging all of your program participants to submit artwork that celebrates afterschool programs and conveys the importance of keeping the lights on afterschool. We all know how afterschool programs keep kids safe, help working families and inspire kids to learn. Have your youth participants show the world how their afterschool program has benefited their lives.
The 2017 Lights On Afterschool Poster contest is also a great opportunity for an afterschool program to gain national recognition for the great enrichment opportunities it offers since the winner's afterschool program will be credited on the poster, too!
This year, we added a new twist to the competition: the afterschool artist who creates the winning masterpiece will take home $500 for their afterschool program!
The winning poster design will be printed on tens of thousands of posters and mailed to more than 8,000 Lights On Afterschool events worldwide. The winning artist will also be featured on our website, blog and a national press release.
This year's poster contest entry period has closed. All submissions must be postmarked no later than April 21 to be considered, and submissions must include a completed entry form.
Contest rules and submission guidelines are available for download now. Please include a completed entry form.
Tips to create a winning design
Encourage students to use bright, bold colors to bring life to their images and make it possible for us to scan the artwork into a digital file. Avoid using textures or raised materials. Materials that won't smear or rub off—like markers, paint and pens—often work better than crayons, watercolors or chalk.
You can also get your burgeoning graphic designers involved by encouraging them to submit their artwork in the digital form to lightson@afterschoolalliance.org.
A few key specs: be sure to submit all artwork on 11x14 size paper as anything smaller than an 11x14 or with different proportions will make the image impossible to fit into our final poster template. For digital submissions, make sure the artwork is no larger than a 2 MB file with a DPI of 350. For higher resolution images, email sgray@afterschoolalliance.org and request a link to our file transfer account.
Also, because the image will be used to promote Lights On Afterschool events nationally, avoid using a specific program name within the submission. It's not required that the winning design includes the words Lights On Afterschool within the image, but if your artists do include the phrase Lights On Afterschool in their designs, make sure "afterschool" is written as one word, consistent with the national branding of the celebration.
Keeping those guidelines in mind, be as creative as possible!