Recent Afterschool Snacks
FEB
28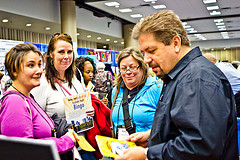 Photo by Foundations Inc.
I recently returned from spending a few days in beautiful San Francisco at the Foundations, Inc. Beyond School Hours Conference. (Who can complain about California in the middle of February?) This was the first nationwide afterschool conference of the year and there was certainly some lively discussion! Conference attendees were very excited to network, exchange ideas and talk about the many issues facing afterschool programs.
I hosted a workshop focused on advocating for afterschool programs, particularly as we face threats from funding cuts. After a discussion of some of the key federal legislative issues, we had a great discussion on ways to advocate in your community and your state. Some of the ideas from session participants included:
Create a book or brochure of parent and student testimonials about the benefits of afterschool (check out our Afterschool Storybook for examples);
Involve kids in visits and meetings with elected officials;
Invite elected officials and other dignitaries to your afterschool program for a site visit;
Organize a day for parents and students to visit the state capitol or their local Member of Congress' office to advocate for afterschool; and
Hold an open house or an evening rally to showcase your program to parents, community leaders and other key

stakeholders (check out our

Lights On Afterschool event ideas

for tips).
What are some of the things you are doing to raise awareness in your community? Share your thoughts in the comments below. For some ideas on how to advocate to elected officials, particularly in an election year, click over to the Reaching Policy Makers section of our website.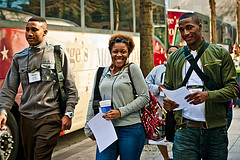 Photo by Foundations Inc.
I was joined during the session by Christine Miller, the program coordinator for the 21st Century PASOS afterschool program in Gettysburg, PA, and 2011 MetLife Afterschool Innovator Award recipient. Christine gave a fantastic talk about her program, which won the award for its work on addressing and preventing middle school bullying. Check out this issue brief that describes her program, as well as several other outstanding nominees that received honorable mentions in that category.
Anita Krishnamurthi, our director of STEM policy, also spoke at Beyond School Hours. Anita, along with Andee Press-Dawson of the California Afterschool Network presented on how afterschool is a vital partner in promoting science, technology, engineering and math (STEM) education. Check out our STEM Afterschool page for more information on what you can do in your program.
Next stops for the Afterschool Alliance? Be sure to look for us at the following conferences!
For more photos and highlights from the Beyond School Hours Conference, check out their Flickr photo stream.