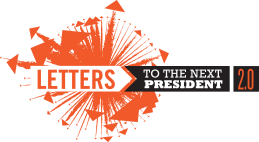 This election season, youth nationwide are crafting messages to our nation's next president. Invite youth to write Letters to the Next President and share their views on what our country needs to thrive. These creations don't need to take the form of written letters—students can get creative and share their vision for the country through poems, art, video... whatever format inspires them!
Ask youth to read their messages at events, or post student letters around the event venue for guests to browse.
Contact your local paper to print one or more of the youth pieces on their opinion page.
Submit the pieces to the Letters to the Next President website to be shared with the world and the next president!
For submissions to your newspaper or the L2P website, youth pieces do not have to be about afterschool programs, but do encourage students to state that they are writing from your afterschool program.
In search of inspiration? Check out these letters authored by Virginia Partnership on Out of School Time Youth Afterschool Ambassadors!